Microneedling Treatments Plano
When is Microneedling Ideal?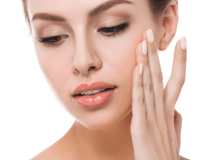 Micro-needling(aka Collagen Induction Therapy) is great for stimulating collagen and elastin for overall rejuvenation of the skin(as is laser resurfacing), but given the skin continues to age, we must continue to rejuvenate AND MAINTAIN no matter the modality.
For all you do to stimulate collagen, it is continually being broken down. This is the ugly truth.This is why maintenance is key. As we age, we do not produce collagen as readily as we did in our youth. And no matter how much we do to slow down the aging process, we cannot stop it in its entirety. The aging that we experience in the form of fine lines, wrinkles, skin laxity, & tactile roughness can all be attributed to the natural break down of collagen over time, in addition to, a drastic decrease in cellular turnover. When you factor in lifestyle habits such as over exposure to sun, tanning beds, smoking, etc.  you aid in expediting the aging process.
How does the treatment work?
Collagen Induction Therapy (CIT) also known as micro-needling is a procedure that improves the appearance of wrinkles, acne scars and stretch marks by stimulating your skin's natural ability to repair itself. Collagen Induction Therapy uses tiny, sharp needles to create hundreds of micro-channels in the superficial layers of the skin. In response to these micro-injuries, your body releases growth factors and cytokines, which trigger the wound-healing process. During this process, the body produces more collagen a fibrous protein that contributes to the structural integrity of the skin resulting in thicker more youthful-appearing skin.
Is Microneedling safe?
Not only is Micro-needling (aka Collagen Induction Therapy) safest at your doctor's office, but it's likely to be much more effective as well. It is best performed under clean conditions, with a topical anesthetic, and physician grade devices can penetrate up to 3mm, providing a much better degree of controlled wounding. These devices have become more sophisticated in the past 4 years and are greatly advanced relative to the home devices that are available. Furthermore, dermal penetration can be offered with various topical agents that can further enhance your degree of enhancement. Getting on a monthly schedule for micro-needling is easy and your results will be better, more consistent (and more pleasant!) than trying to treat at home.
What can I do after a treatment?
How long redness lasts after mincroneedling  depends on several factors including depth of treatment, number of passes performed, and how your skin reacts to the procedure.  On average, the redness itself subsides anywhere from 12-48 hours after treatment.
How long does a Microneedling treatment last?
A series of 4-6 micro-needling treatments spaced 4-6 weeks apart is recommended to achieve an optimal result.  Once you have completed your series, your clinician can determine what maintenance regimen will best suit you based on your overall skin care goals. It most likely will include micro-needling maintenance treatments at some point, but if you continue to maintain an effective home care regimen, in addition to, regular skin care treatments you should be "sitting pretty," for 6 months to a year before you need a maintenance treatment.
Professional Micro-needling treatments being performed for a purpose, such as improvement of texture, fine lines or acne scars are usually done two to four weeks apart until results are seen. The number of treatments depend on the severity of the problem being addressed and the current health of the skin. Having said that, it usually takes six treatments to see nice improvement. Combining Micro-needling treatments with Platelet Rich Plasma or PRP gives additional synergistic benefits. Once full results are achieved, maintenance treatments are recommended every 4 to 6 weeks apart.
How does the treatment feel?
It's a quick, low-pain-level procedure. Topical local anesthetic can help minimize discomfort.
Am I a candidate for Microneedling?
Collagen Induction Therapy (CIT) also known as micro-needling is a procedure that improves the appearance of wrinkles, rough texture, enlarged pores, age spots, acne scars and stretch marks by stimulating your skin's natural ability to repair itself.
Contact Us
To learn if microneedling is a solution for you, or to schedule your next treatment, please call our office at 214-280-4316.
Open Hours
Mon-Fri: 9AM to 5PM
Sat: By Appointment Only
Sun: Closed