(PDO) Threads Plano
When are Polydioxanone (PDO) Threads Ideal?
Restoring the V-Shape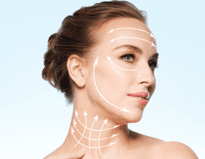 Although PDO Threads can be inserted almost anywhere, one area where they are especially effective is the midface, jawline and neck. The lower third of the face is challenging to effectively treat with botulinum toxin or injectable fillers, which are most effective in the upper and middle third of the face, respectively. A beautiful and healthy face has a "V-shape." With the aging of tissues and the action of gravity, this "V-shape" diminishes or inverts.
Luckily, the two different types of PDO Threads Techniques, respectively using SMOOTH and BARBED threads, can either create a scaffolding in order to support the tissues and keep them in the "V-shape," or where necessary, to delicately lift the tissues and reposition the skin to recreate the "V-shape" where it's been lost.
How does the treatment work?
The thread is pre-loaded on a needle, which is inserted and then the needle is removed. Absorbable PDO threads stay under the skin and tighten it (smooth) or lift it (barbed). No scalpel, numbing cream or local anesthetic recommended.
The thread is fully absorbed by hydrolysis within 4 to 6 months and doesn't create any scar tissue. The foreign body stimulates collagen synthesis and the skin structure created will hold for another 12 to 15 months.
Are PDO Threads safe?
PDO is an absorbable material; therefore,  the complications seen with permanent threads in the past do not occur.  Should you not like the results, the threads can be removed immediately after insertion or dissolved with Radio Frequency.
What can I do after a treatment?
No downtime. Great results, visible instantly!  Lunchtime procedure.
Am I a candidate for PDO Threads?
We recommend patients with a history of, or presence of Acute inflammatory processes or skin diseases in the area of intervention;
Acute respiratory viral infection;
Any chronic diseases in their acute phase;
Arterial hypertension;
HIV infection, viral hepatitis;
Autoimmune and somatic diseases;
Hemophilia (bleeding disorders);
Propensity to form keloid scars;
Polyvalent allergy;
Oncological diseases;
Reception of anticoagulants, antiaggregants;
Mental and neurotic disorders;
Menstruation (1 week);
Pregnancy, lactation;
Previously introduced non-biodegradable injection materials, implants in the area of the procedure;
not have PDO Threads.
Our licensed healthcare provider will discuss candidacy in more detail.
Contact Us
To learn if PDO Threads are a solution for you, or to schedule your next treatment, please call our office at 214-280-4316.
Open Hours
Mon-Fri: 9AM to 5PM
Sat: By Appointment Only
Sun: Closed